The Moab Music Festival deeply appreciates your support to bring live chamber music to the red rocks of southeastern Utah. Whether it's a cash donation, planned giving, in-kind gifts, or volunteering your time, each donation is critical to the Festival's operation and success, and secures our ability to present unique music in concert with the landscape® experiences for all to enjoy.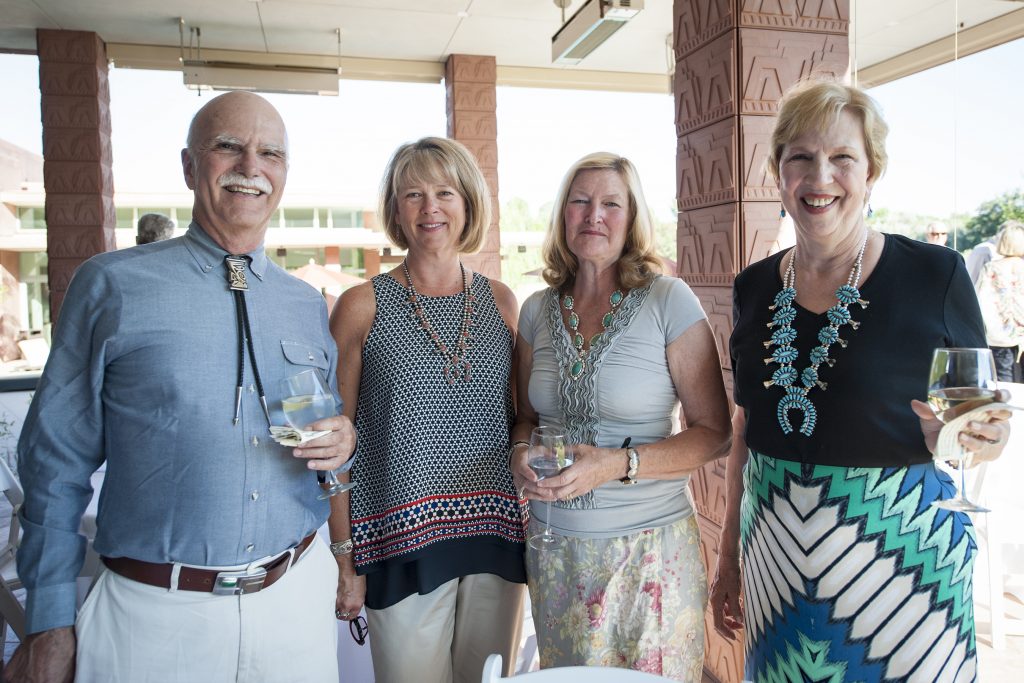 The MMF Annual Fund (or operating fund) is critical to each season's success. Because ticket sales only comprise approximately 30% of our annual budget, your help is crucial to making music in concert with the landscape® happen each year. Donations support every aspect of the Festival, not only keeping it running smoothly, but allowing us to plan new exciting programs and adventures, and expand the boundaries of what we can offer to audiences, patrons, and the community at large.

Here are just a few things your Annual Fund donation helps to support:
• Artist fees, travel & housing
• Free concerts
• Education & Engagement in the community
• Production costs
• Repair and update production equipment such as chairs, stage, ramps, lighting & signage
DONATE ONLINE:
Donate by credit card using a secure site by clicking the Donate Now button below.
DONATE BY PHONE:
Make credit card donation by calling 435.259.7003.
DONATE BY MAIL:
Mail your check made payable to:
Moab Music Festival
58 East 300 South
Moab, UT 84532 
For more information, or to make an ongoing, monthly credit card donation, contact Erin Groves, Associate Director of Development, 435.259.7003, erin@moabmusicfest.org.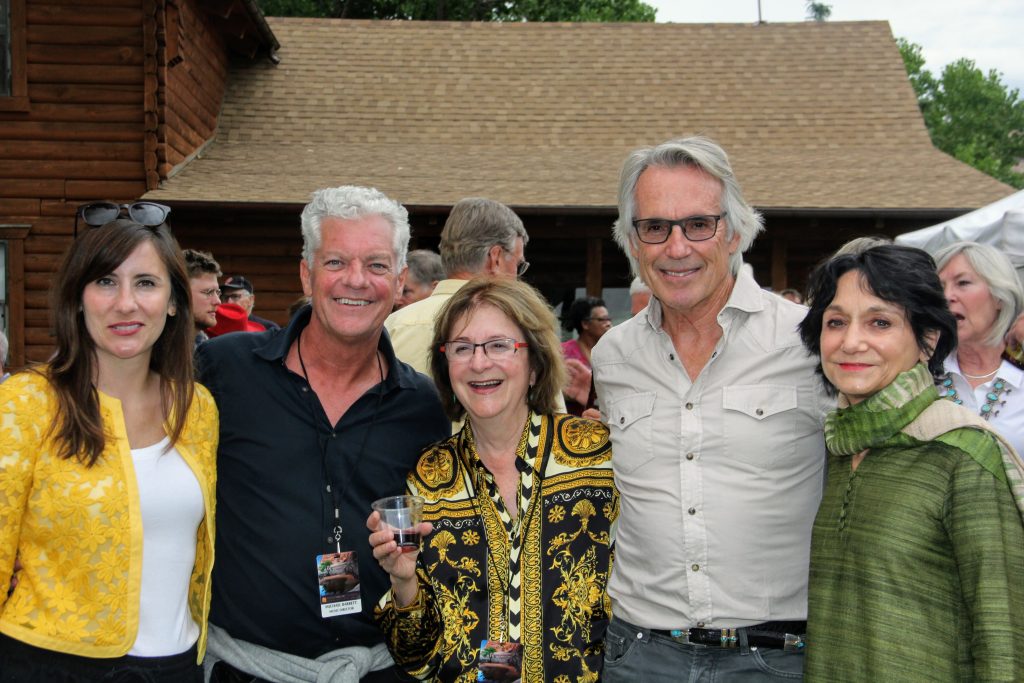 Have you always dreamed of making something creative from the ground up? Perhaps actively contributing to the creation of art in our time? It's an electrifying process and you can be a part of the future of chamber music by joining our Moab Music Festival Commissioning Club! Club members help commission one composer annually to create a new piece of chamber music, taking a journey through the composition process, from inception to the world premiere performance during the Festival. All members of the Club receive special VIP access to salon receptions with the composer, post-performance reception with the artists, and more.
Contact Artistic Director Leslie Tomkins at leslie@moabmusicfest.org for more details.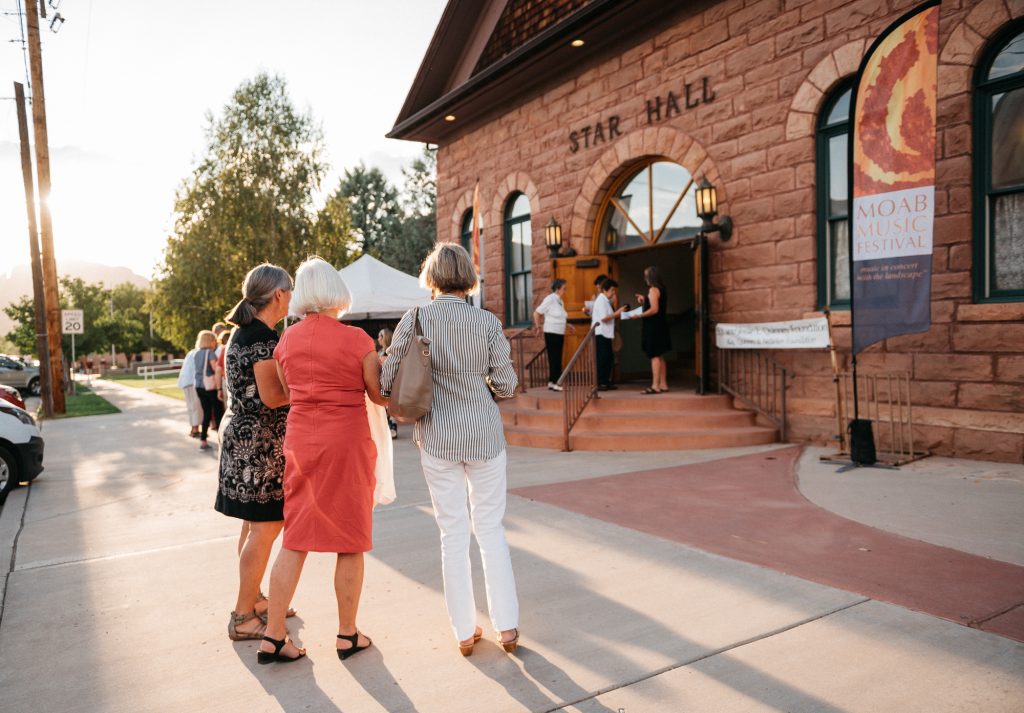 Many companies want to support the causes their employees care about, and since the Moab Music Festival is an eligible 501(c)3 not-for-profit organization, your generous donation could be matched dollar for dollar (or more!), literally doubling or tripling your impact on the arts and the Festival's ability to produce an incredible season each year. To maximize your gift in this way, contact your employer's Human Resources department to see if they have a matching gift program.
Contact Executive Director Laura Brown by phone at 435.259.7003 or e-mail at laura@moabmusicfest.org for more details.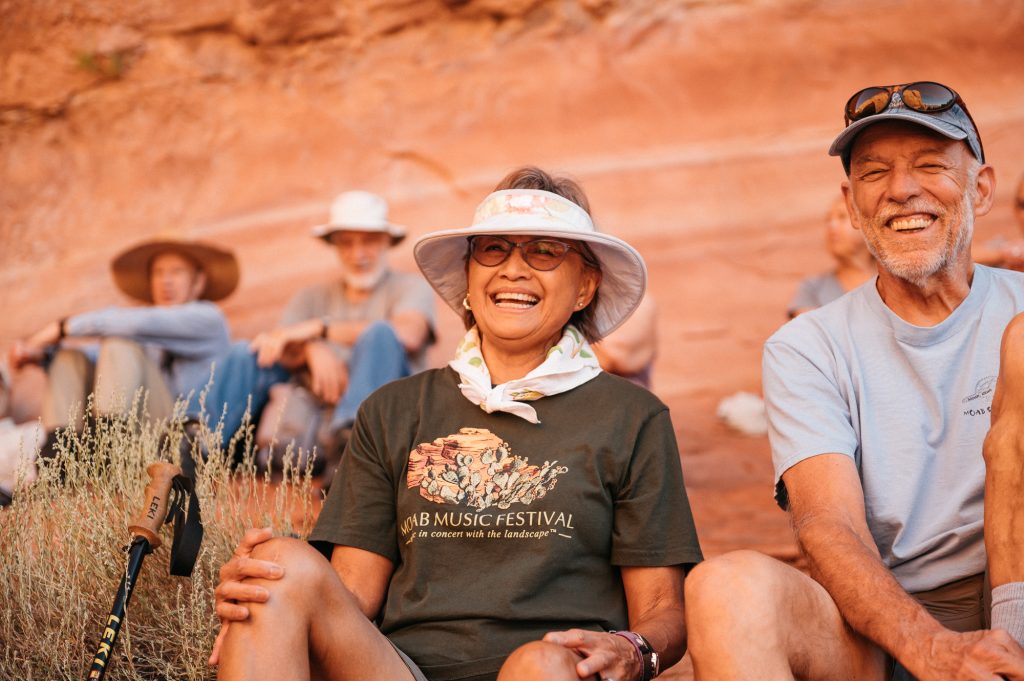 Stocks can be given as an annual or endowment fund donation or as part of your planned gift. Appreciated stock can provide significant tax benefits in addition to a philanthropic investment in MMF.
Contact Executive Director Laura Brown by phone at 435.259.7003 or e-mail at laura@moabmusicfest.org for more details.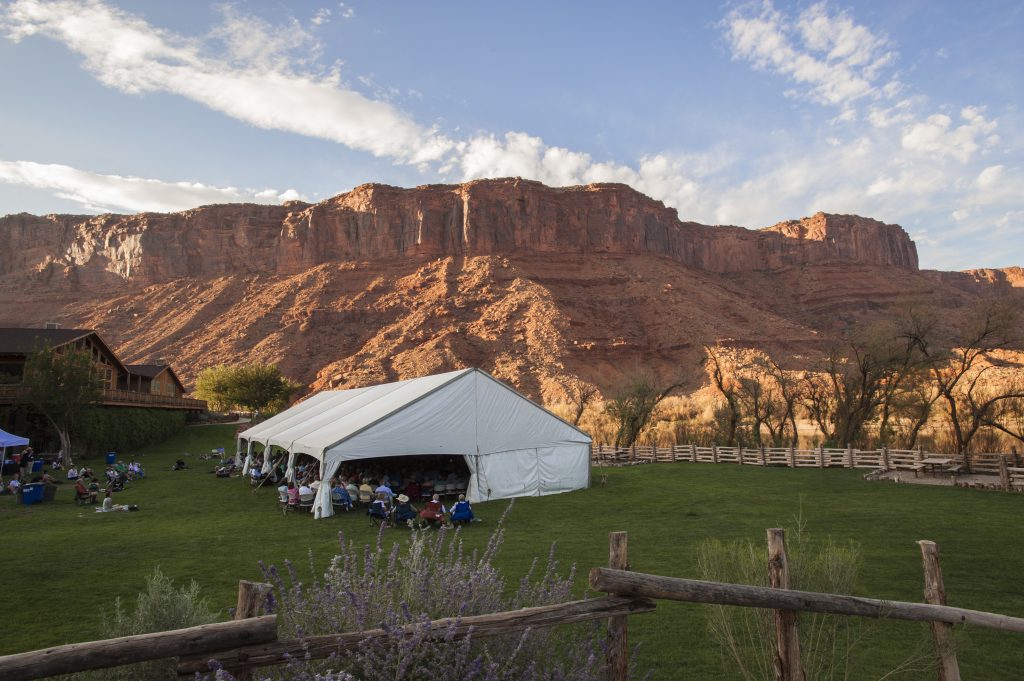 The Moab Music Festival Endowment
Created in 2019, this restricted fund provides an outstanding opportunity for patrons who want to make a lasting impact on the Festival and to play a crucial role in its future. For example, Named Funds within the Endowment support a broad and exciting range of Festival activities, including artists' and composers' residencies, Education and Outreach programs, and special Festival projects, such as commissions, recordings, and national radio broadcasts.

The Gordon Tomkins Quasi-Endowment Fund
The Gordon Tomkins Fund (GTF) was established in 1994 to honor Artistic Director Leslie Tomkins' father, the late Dr. Gordon Tomkins, who was a scientist, physician, and musician. Gordon was a brilliant man of boundless intellectual curiosity, creativity, and passion for ideas. He began his professional life in molecular research at the molecular research at the National Institutes of Health and then co-founded the Biochemistry Department with Dr. William J. Rutter at the University of California San Francisco, College of Medicine, where he was a professor. He was also an avid musician playing both jazz and classical music on both instruments. In 2012, the MMF Board of Trustees launched a multi-year initiative to raise $500,000 for the Fund. The GTF is an unrestricted fund.
To make a multi-year or earmarked gift, to contribute to the MMF Endowment, the Gordon Tomkins Fund, or to plan your legacy gift, please contact Laura Brown, Executive Director, at 435.259.7003 or email laura@moabmusicfest.org.
Through your will or estate plan, your legacy can give ongoing support to the MMF's music in concert with the landscape®, Education & Engagement initiatives, and commissions for new works for many years to come.

Bequests
Specify in your will either a dollar amount or percentage of your estate for the Moab Music Festival.

Charitable Trusts
Establish a trust that pays a yearly income to the Festival for a specific number of years. Then the assets return to you or your designated beneficiaries. The trust assets will not be included in your estate, thus providing income, gift, and estate tax benefits.

Life Insurance
Transfer ownership of a paid-up life insurance policy to the Festival. Receive an immediate tax deduction and eliminate estate taxes at the time of your death.

Retirement Benefits
Name the Festival as beneficiary of IRA or other retirement plan assets, eliminating substantial estate and income taxes on these assets at the time of your death.

Please let us know that you would like to or have already included Moab Music Festival in your estate plans so we may thank you and recognize your kindness and generosity year after year. For more information about Planned Giving, please contact Laura Brown, Executive Director, at 435.259.7003 or email laura@moabmusicfest.org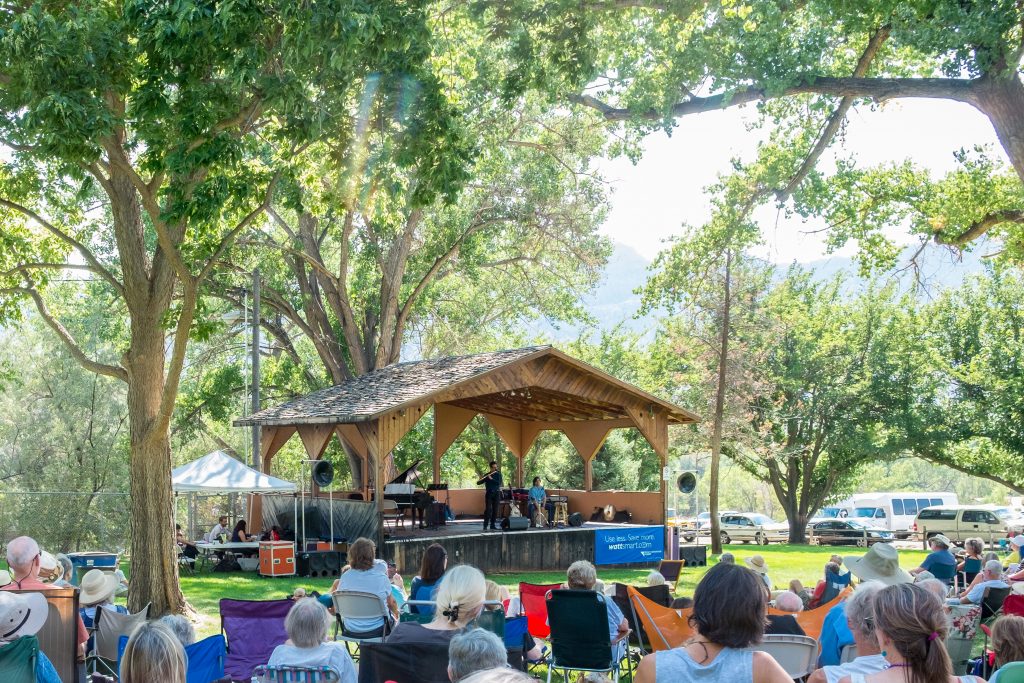 The Moab Music Festival treats every corporate sponsor as a one-of-a-kind partner. We are passionate about helping businesses contribute to our greater cultural community, and pairing organizations with events and programs that are important to their unique giving aims. Whether it's supporting MMF in the production of high-profile concerts, vital educational activities (both locally and beyond), or other events during the season or throughout the year, our sponsors can expect increased visibility and influence among the Festival's thousands of arts and culture-minded patrons.

CLICK HERE to see a list of our Corporate Sponsors.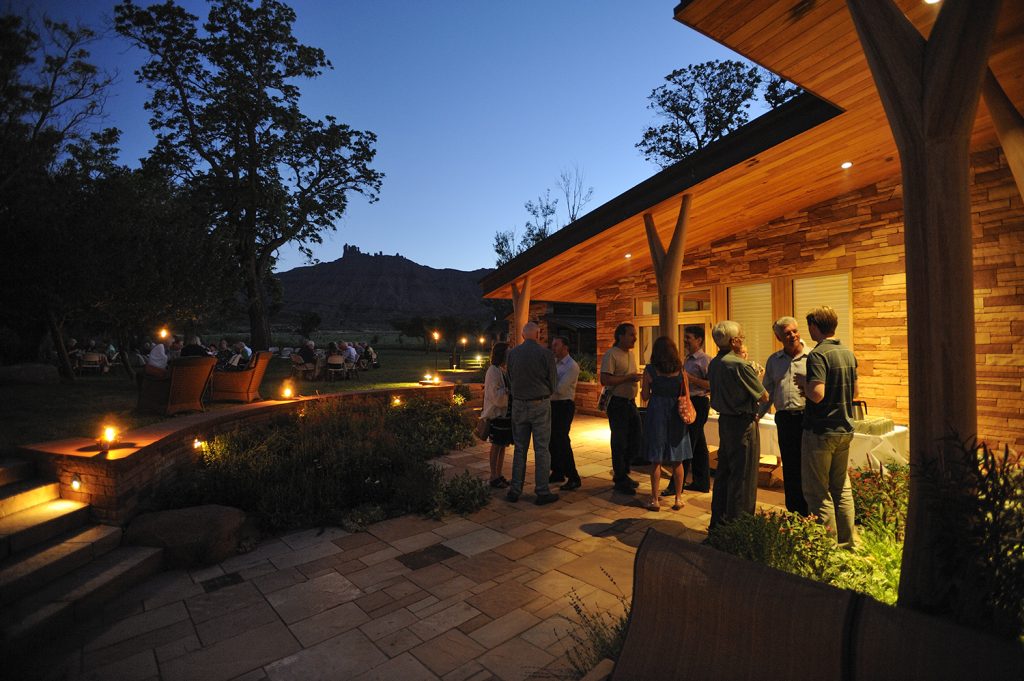 The Moab Music Festival's Ranch and House Benefit Concerts are intimate, special events which give patrons the opportunity to experience exquisite music-making and mingling in sumptuous, private settings. Tickets purchased for MMF benefit events have a tax-deductible donation built in to the ticket price, with receipt of a tax-acknowledgement by the end of the year.

If you have questions about our benefit events, or are interested in hosting an event, please contact Laura Brown, Executive Director, by phone at 435.259.7003 or e-mail at laura@moabmusicfest.org.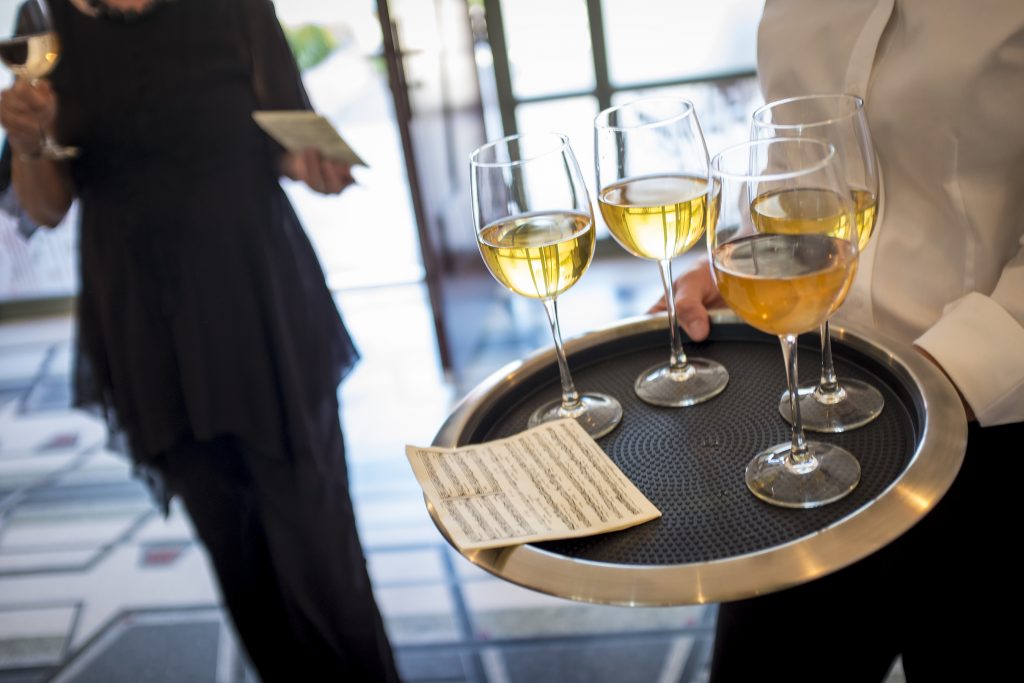 There are so many different ways to support the Moab Music Festival, and we depend greatly on in-kind gifts, which are critical to helping offset operations expenses. Gifts such as housing for artists, wine, catering, Apple iPads and iPhones for ticket scanning, and other items are immensely appreciated. 
To make an in-kind gift, please contact Associate Director of Development Erin Groves by phone at 435.259.7003 or e-mail at erin@moabmusicfest.org.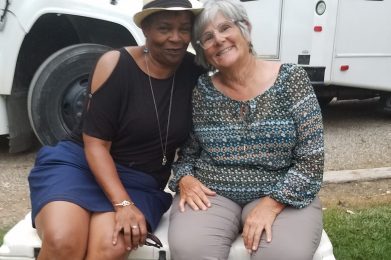 Over 65 volunteers play a vital role in the Moab Music Festival each year, handling a variety of tasks including:
Distributing promotional materials around Moab in July and August.
Usher duties, greeting patrons, and selling Festival tickets, merchandise, and artist CD's at concerts.
Parking Monitors at concert venues.
Providing artist housing, transportation, and hospitality.
Helping with box office tasks during Festival office hours and at concerts.
Be part of the MMF family and join the fun. Volunteers who help at concerts receive free admission to that concert. Contact Community Engagement Director Erin Groves at 435.259.7003, erin@moabmusicfest.org, or visit the Volunteer Page of our website for more information and to sign up.
Please note that The Moab Music Festival does not engage in rendering legal, financial, or tax advice. Please contact your financial or legal advisor for information on charitable giving.